STA painless injection
"For anyone afraid of needles or injections, I can't say enough good things about this system."
The mere sight of a dental syringe and the thought of having an injection can easily become big obstruction for most patients seeing dentist. The syringe is the No.1 cause of stress in the dental office and the biggest source of anxiety and fear for the patient.
For those times when you might not look forward to you dental appointment, the STA Single Tooth Anesthesia System® unit and The Wand® handpiece make the visit anxiety-free and more comfortable for you and your family.
Can local anesthetic injections be non-threatening and painless? The answer is yes!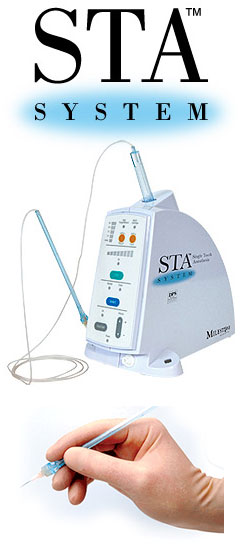 What is Wand® STA? The Wand® STA provides a painless, stress-free alternative to dental anesthesia via syringe. It is a small hand piece that looks like a pen. It delivers a computer-regulated flow of anesthetic and is comfortable for dentist to hold, meaning that the injections will be consistent, accurate, and painless for the patient every time! Most time, injection discomfort often caused by too much anesthetic is delivered too fast in a confined area of tissue. Because these flow-rate control devices inject the anesthesia slowly,which ultimately improve patient comfort.
Benefits:
1. Innovative injection techniques
2. Reduced injection discomfort. No more fear and anxiety!
3. Injections do not produce collateral numbness to the lips, face, and tongue, which means patients can speak clearly and comfortably immediately after injection
4. Uses less anaesthetic to achieve the same result
5. Faster onset of anesthesia
6. Ergonomic handpiece is comfortable for the clinician and non-threatening to patients
7. Especially useful for children and dental phobics
8. Single Tooth Anesthesia (STA) painlessly and effortlessly delivers computer controlled amounts of anesthetic to the PDL space for profound anesthesia of a single tooth.
Do you consider yourself a "dental phobic"? If so, you are not alone. It is estimated that nearly 50% of the New Zealander, experience some anxiety when visiting the dentist. The STA Single Tooth Anesthesia System® isjust the perfect solution for you!
With the STA device, the patient will not feel the pain with the injection. Dr. Richard is able to achieve numbness of a single tooth area without tongue and lip tissue been affected. Its less threatening appearance is even known to reduce anxiety and stress.
Here at Victoria Dentists Hamilton, we believe that our patients deserve the very best and we are constantly striving to provide you with any effort to achieve patient comfort during your dental visits.
The STA is a state-of-the-art device that gives Dr. Richard the opportunity to drastically improve his patients' the best dental experience.